University gold wins silver!
This little jewel, the University of Calgary's 50th Anniversary publication, was a labour of love for me. A beautiful 12×12″, 80-page book features the history, achievements and lore of the university, and is embellished with gold foil and ink to celebrate the university's gold anniversary. It won silver at the 2016 Canadian Printing Awards in the category Books, softcover offset.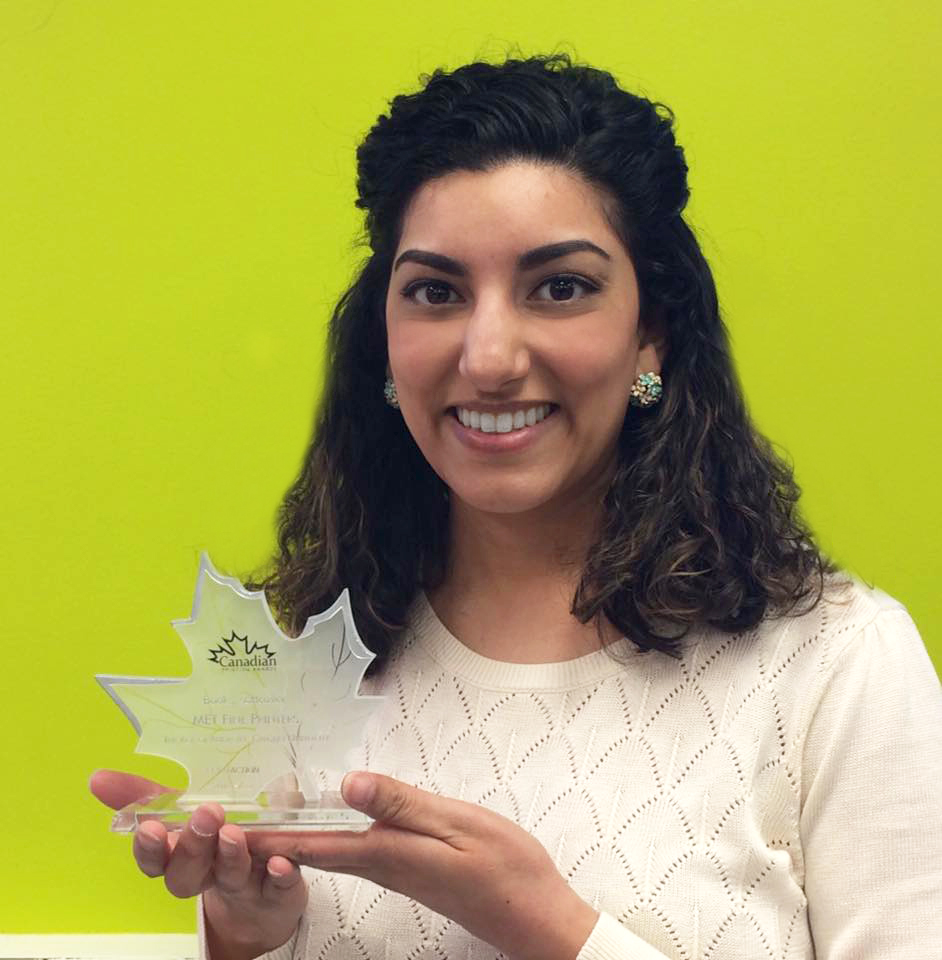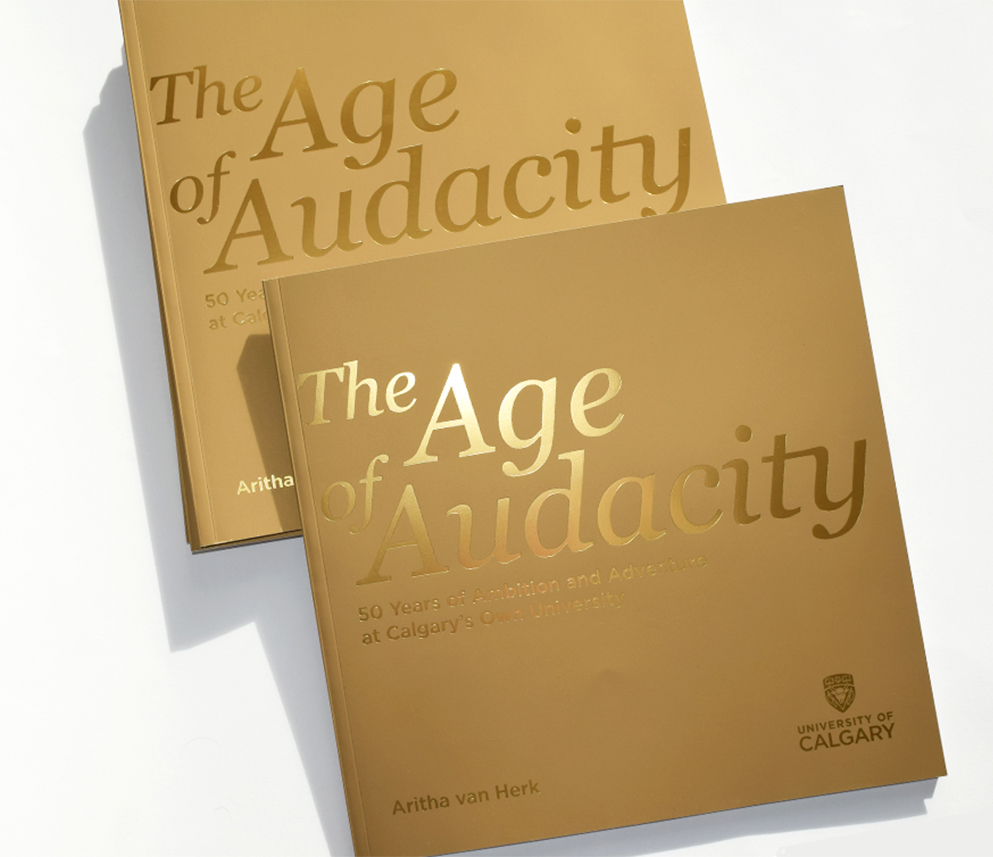 Mirror, mirror on the wall…
Every woman wants a vanity that provides both functionality and style. I used a white desk for storage, while a beautiful patterned chair and gold sunburst mirror complete the look. The whimsical wallpaper creates movement and helps the metallic elements pop.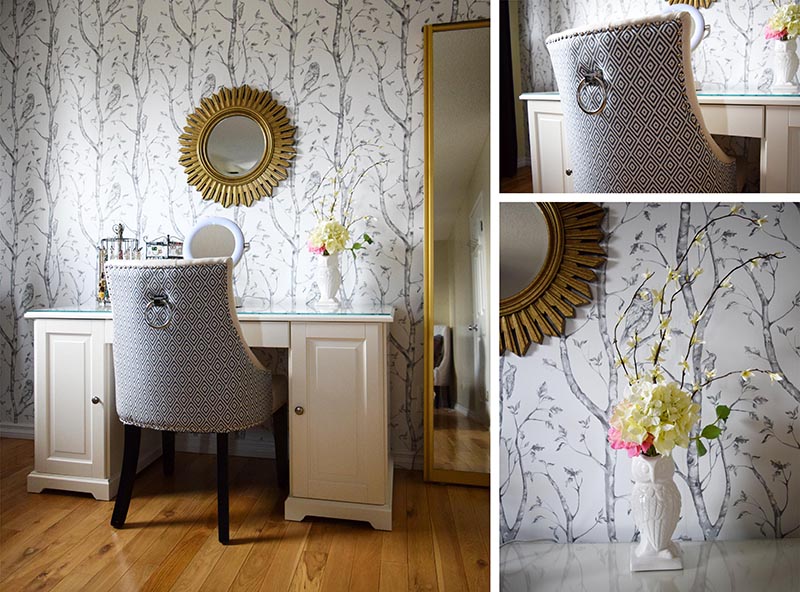 Dreams float-ing proud
This small, but mighty float had a very modest budget and big imagination. My float design for the University of Calgary won 1st for Best Business or Non-Profit and 3rd for Most Creative in the 2016 Stampede Parade. Yahoo!!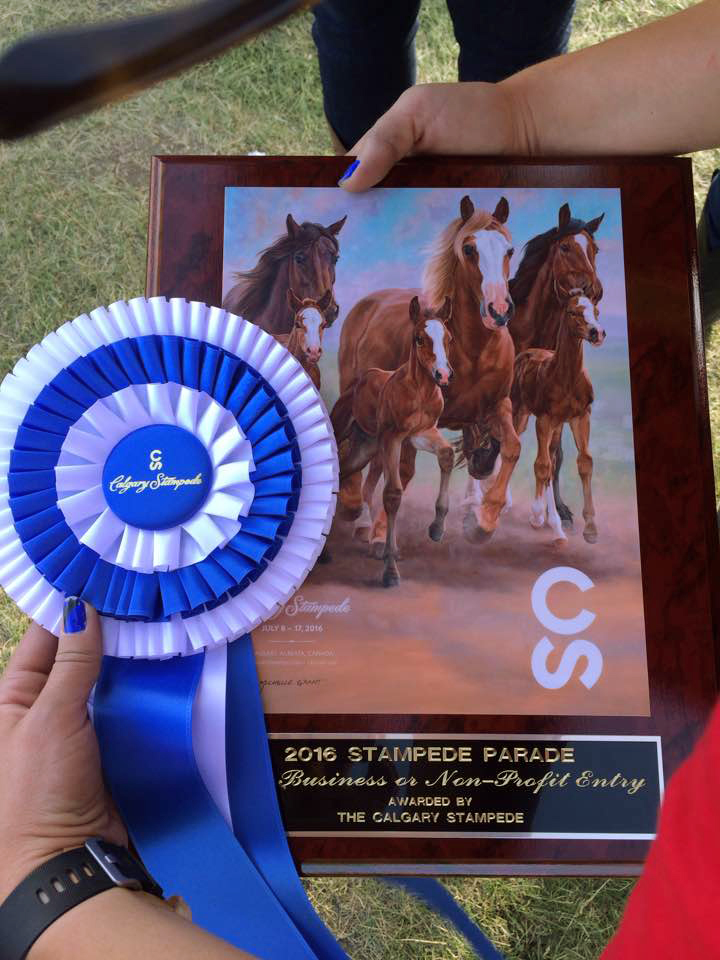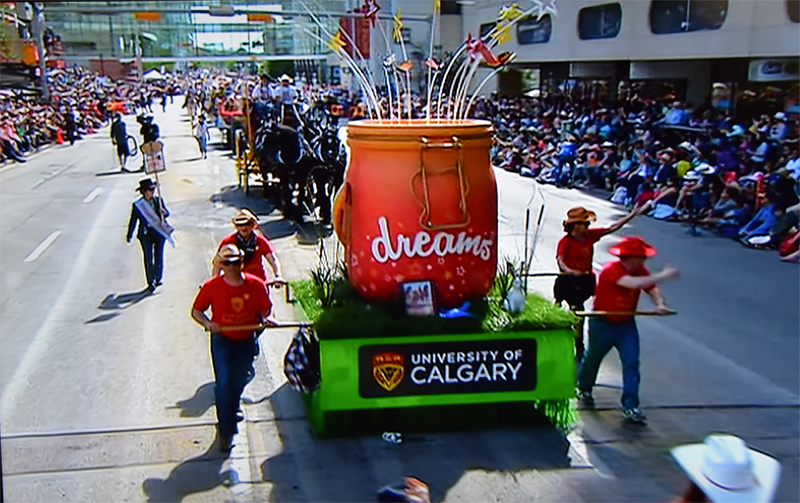 Bedroom vignette
Creating a vignette for an empty corner in your room can make the space come to life. I added a chair and dresser and a few small accents to provide functionality to an unused corner of my bedroom. The dresser's mirrored surface adds depth and glamour to the space.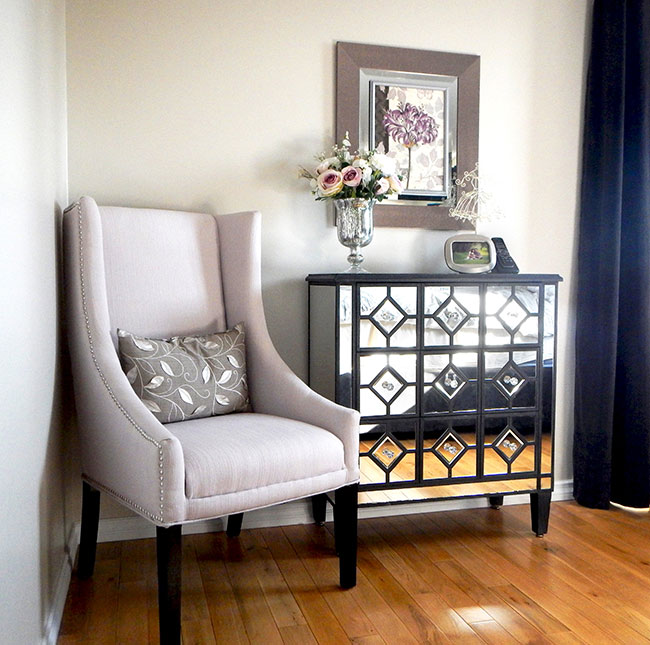 Peacocks and jewels for the holidays
My love of peacock feathers inspired my theme for the holidays! I decorated my tree with teal and jewel-toned ornaments, which add a striking array of colour to my Christmas tree. Twisting gold ribbon around the tree and topping with peacock feathers is a modern way to finish it off. A couple peacocks perched in the tree add a whimsical flair for the holidays.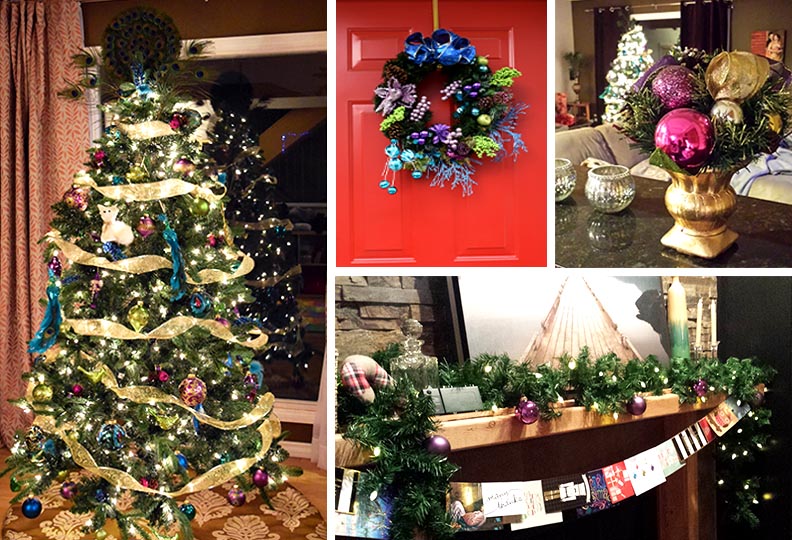 A splash of colour
Any neutral room in your home can be brought to life with a splash of colour. I took my colour inspiration from a vibrant engagement photo to add some richness to my otherwise bland living room. By keeping the larger pieces of furniture neutral, it is easy to change up this look in the future. I started by defining the space with a grass green carpet, then adding some colourful, coordinated pieces of art and accessories and finishing off the space with a bouquet of fresh flowers.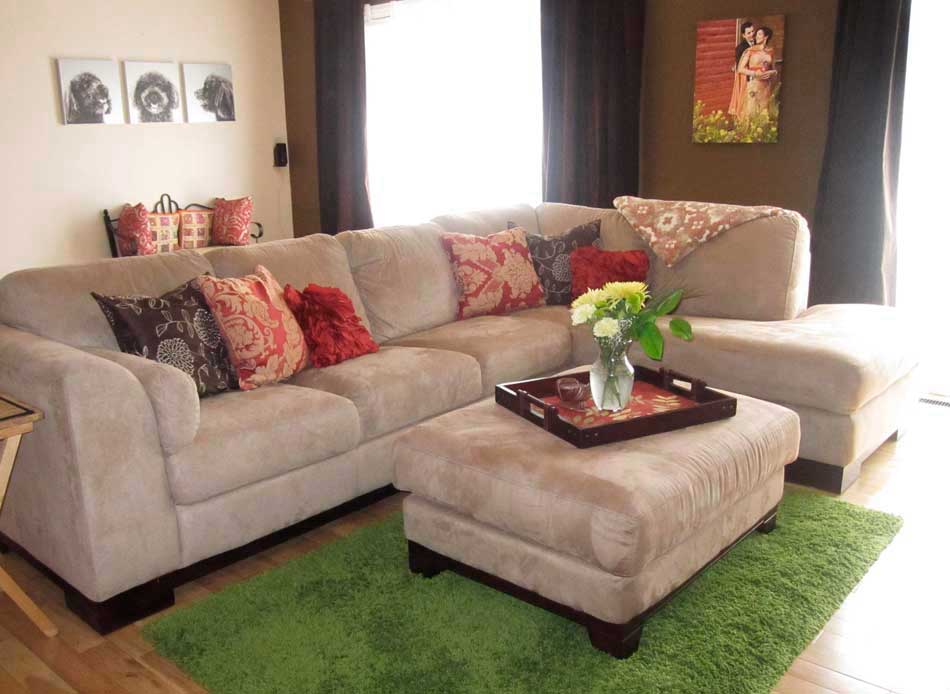 Double Take wins gold at the AMPAs!
Very surprised when they called my name at the Alberta Magazine Publishers Association Awards for Best Feature Design. This beautiful photo essay was nominated for Best Cover Design and Best Feature Design. The gamble to turn the magazine on its side was a good one. I felt the vertical photography was better showcased by turning the magazine, which is how the photographer, Joey Podlubny, takes it in the first place – by turning his camera on its side.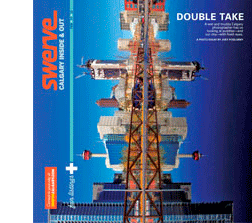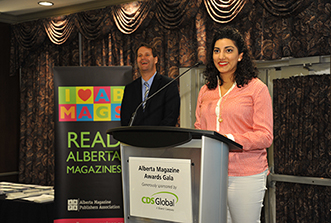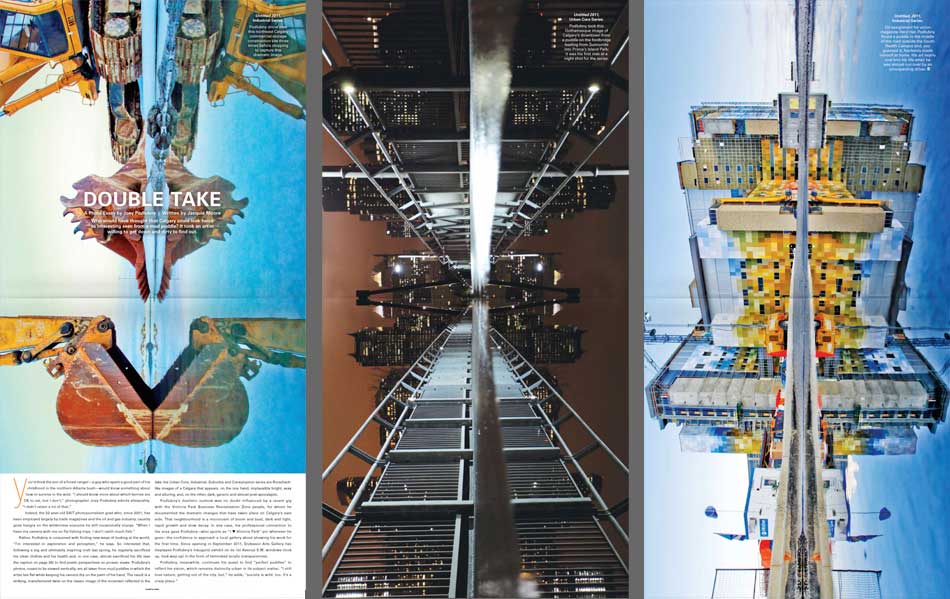 The New Pinups receives a WMA nomination!
It was a proud moment, indeed, when I received a nomination for The New Pinups at the 30th Annual Western Magazine Awards this year! I designed this Cover Story only 3 weeks into the job and I spent hours working on the design… the hard work paid off.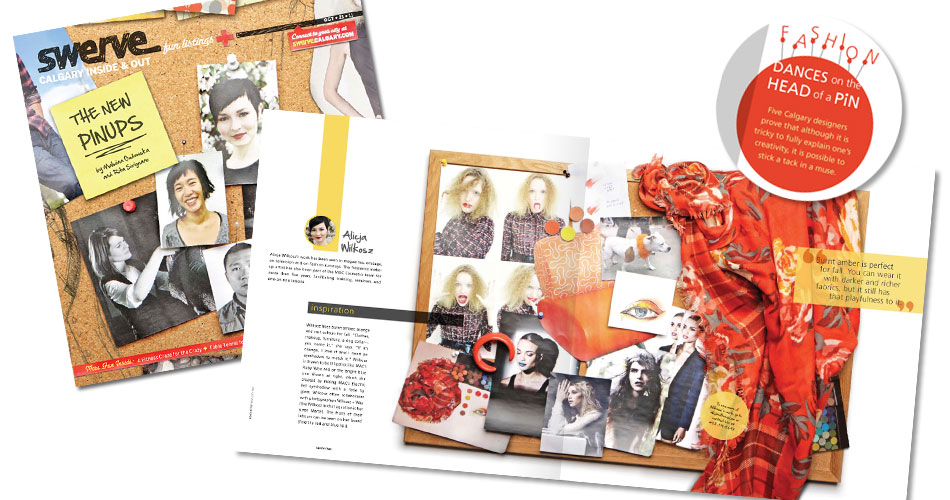 On our paper anniversary
It is tradition to give a gift of paper to your significant other on your 1st year anniversary. I gave my husband this cut paper portrait of us on (originally taken on our wedding day) and recently got it custom framed. I chose 4 neutral colours of paper (including one pearlized layer), used a template to cut each layer and then carefully glued the layers together, forming the completed portrait. I choose a pearlized scoop fillet, white pearl mat, and an antique silver custom frame to complement the piece. It is the perfect masterpiece to crown the head of our bed and remind us of the day we began our lives together.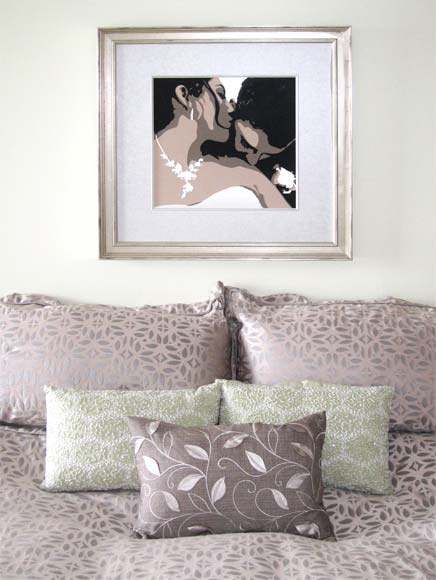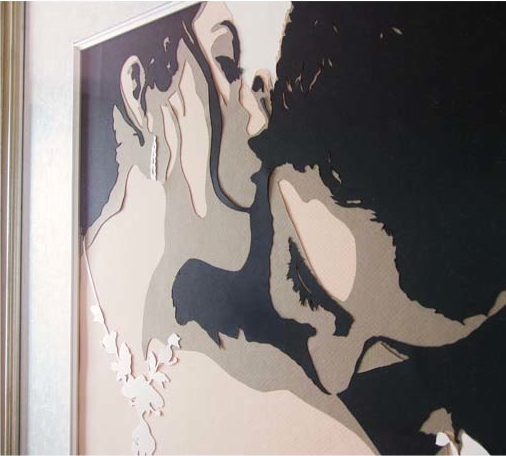 Good things come in 3s
I created this endearing triptych of my dog, Hercules, by getting his photos printed on custom aluminum panels. I started by getting three portraits of varying angles taken by a professional photographer. After making a few quick tweaks in Photoshop, I took these to a custom art reproduction printer to get them printed on 16 x 16″ panels of silver aluminum dibond. Not only does this gleaming display add some life to a bare wall, it is also a treasured keepsake of a dear family member.